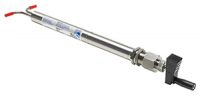 Sentry Variable Pressure Reducing Element (VREL)
The Variable Pressure Reducing Element (VREL®) effectively reduces pressure, helps to adjust sample flow and protects online instruments. VREL® is used for samples with pressures above 500 psig (34 bar). The VREL® reduces pressure over a large surface area, has a wide adjustment range (56 turns from full open to closed) and is easily cleanable in place. These features offer better sample flow control, ease of maintenance, and a longer service life than other pressure reducing devices.
The Sentry VREL® is a valve specifically designed to solve unique high pressure sampling problems. Chemical analysis of water and steam samples in modern power generation plants requires precise control of flow and pressure.