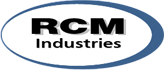 RCM Industries
GUARANTEE
RCM Industries, Inc.'s products are guaranteed to satisfy – period. Products are further guaranteed against defects in materials and workmanship for a period of one year.
POLICY
Their policy is to supply products which meet or exceed the expectations of their customers and all established requirements. They are committed to continued improvement of their people, their services, their processes and their products. RCM Industries, Inc. is an ISO 9001 certified company. RCM Industries, Inc. maintains a documented quality system as a means of ensuring that the products manufactured conform to customer specification.
COMPANY BACKGROUND
RCM Industries, Inc. manufactures direct reading differential pressure flowmeters for liquids and gases. They have a dedicated team of employees who specialise in the manufacture of flow products as well as research and development of new products, manufacturing processes and technologies to remain competitive in the world marketplace. They work with OEMs to custom fabricate products to fit in a variety of processes and applications. Their mission is to serve industrial and commercial customers with flow measuring products which are rugged and reliable and easy to apply, and outstanding service with delivery commitments which are as reliable as their products.